Did you know that in 2018, Google made about $30 million in revenue from Google Ads alone?
In addition, in the same year, more than 2.6 million dollars were made worldwide on advertisements.
So what are you waiting for?
Formerly Google Adwords, Google Ads is an online advertising platform that allows companies to display their ads in the SERP. They choose specific keywords in a given region and pay for their ads to appear in the search results for the desired queries. The platform uses a system called "pay-per-click", which means that companies only pay when a visitor clicks on the ad.
Contrary to what one might think, it is not enough to pay to appear on the first page and receive hundreds of clicks directly, it is much more complex.
Indeed, Google has its own system when it comes to Google Ads. Indeed, apart from the money, Google also considers the quality and relevance of the ad.
So how do you create a Google Ads campaign that works and that will bring you many leads while improving your visibility on the web?
Need a website creation ?
New project in mind? Our webdesigners will create THE website that will make your business take off.
Define objectives and target audience
First, think about who you want to reach and what goal you want to achieve. Do you want to get more calls, more physical visits or increase your sales through your website?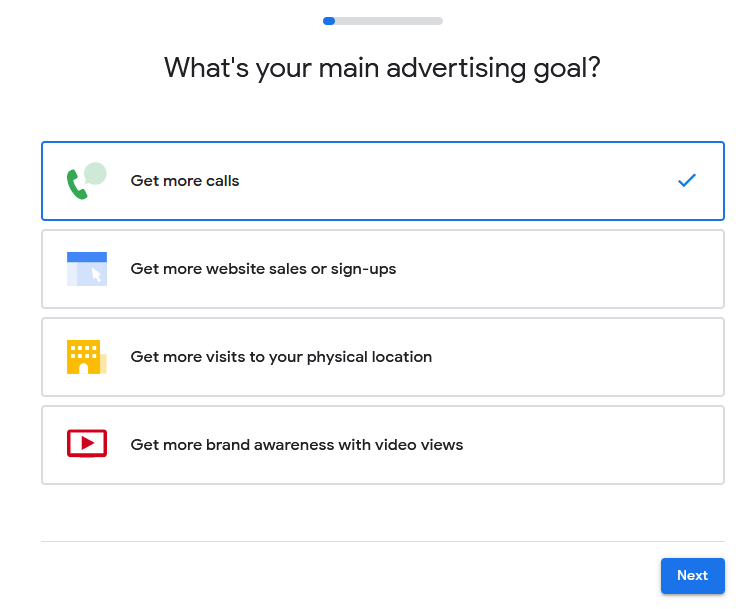 Once you have defined your goal, enter your business name and website. If you already have a Google My Business account, we recommend that you register directly with your account to save time.
Fill in the fields of your ad. In the first title should appear the name of your company or the description of your company. In the second title one or the other depending on what you have filled in the first, then the third title comes to complete the first two, usually we add the domain name of the site or a short additional information. Put yourself in the head of your future customers. What are they looking for? If you were looking for an Italian restaurant in Geneva, what would you search for in Google? It is essential to think about these two questions to formulate an attractive ad.
The key is to write a short, relevant ad that instantly describes your products/services.
Next, briefly describe your services in description 1 and 2. Get to the point. When visitors come across your ad, they should know exactly what to expect.
Then enter your phone number and choose the option "show a call button in my ad" if you want visitors to be able to call you directly.
Then, choose the relevant keywords for your activity. In our example, relevant keywords would be "Italian restaurant", "Italian specialties", "Italian cuisine", or "Italian restaurant Geneva". It's up to you. To help you in your keyword research, we recommend you to use the free tool Google Trends which allows you to analyze the volume of Google keywords in your area. If the competition is tough, we recommend that you choose the lowest volume keywords, as it will be easier for you to appear first in the ads.
Once you have chosen your keywords, you will need to choose a geographical area. In general, we advise you to focus on a specific area such as your city. You will have a better chance of appearing in the search results than if you choose to appear in all of Switzerland.
Now you need to set your budget according to your goals. Google will recommend a budget, however, it is up to you how you want your Google ads to be displayed. You will pay per number of clicks.
You can also set your own budget. The definition of the budget will depend on several factors, such as the competition's budget and the number of visits desired per day. In general, it is better to start with a small budget.
Validation of the Google ad
Then, a summary of your ad will appear in order to verify your ad, then, you will be invited to pay.
And that's it! Your Google Ads are online!
In order to analyze your audience, we strongly advise you to track your ad with Google Analytics.
Here's how to associate your account Google Ads to Google Analytics.
The advantages of a Google Ads campaign
Google Ads is one of the best advertising tools on the market. But, is it really worth it?
As you have seen throughout this article, Google Ads is a powerful tool with many targeting options. Indeed, Google Ads allows to :
With Google's many targeting options, business owners can ensure that their ads are only shown to potential customers. They can filter their audience based on geographic location, age, keywords, etc. In addition, they can also choose the time of day that their ads will be displayed. A common example that many B2B (Business to Business) companies use is to run ads only Monday through Friday from 8am to 5pm. This is usually because businesses are closed on weekends. However, if you sell leisure products or services, then you will have better time to choose to have your ads posted on weekends for example.
This will give you the best chance to attract visitors to your website.
With its "click-and-pay" system, Google has revolutionized the advertising business. This way, you are assured to pay only for the results. Indeed, if Google had promised you between 100 and 150 clicks per month and you only get 90, you will not pay more. Moreover, compared to other advertising agencies, the rates of Google Ads are relatively reasonable and, you keep a total control on your advertisements.
Evaluate your performance
Google Adwords allows you to monitor the performance of your ads. Indeed, you can see how many people clicked on your ad as well as the number of people who took action after visiting your site.
As we have seen in our previous article, SEO takes time, especially in a competitive sector. So, an alternative would be to use Google Ads. Indeed, this will allow you to have more visits on your site, as well as to appear in the search results of Google. Moreover, the effect is case-immediate and much more at hand.
Contrary to popular belief, Google Ads attract just as many visitors to your site as organic traffic. Indeed, Google Ads are directly directed to the sale. With a short argument inviting visitors to take direct action.
Google Ads campaigns are easily customizable, allowing you to focus on a specific target audience. You can apply many filters such as time, language, mobile or computer device, specific keywords, etc. In addition, you can also tell Google about keywords you don't want to appear on your Ad.
Our tips for an effective campaign
A landing page is a specific page that users land on when they click on your ad. Usually, you could put the home page. However, the landing page is a good way to convert your customers directly. It should include a call-to-action as well as short texts and beautiful images that make the customer want to buy your services/products.
The smaller the area you choose, the more likely you are to reach potential prospects. One might think the opposite, however, the larger the area of your ads, the more competition you will have. Whereas, if you focus on a small area such as your city or neighborhood for example, your ad will have more exposure.
If you have just started your business or want to develop it, Google Ads can be a good choice for you. Indeed, as we have seen, you will more easily convert your customers thanks to a short and straightforward "call to action". Moreover, if you see that your competitors are using Google Ads, you may be losing an opportunity to stand out among them.
Be careful not to neglect the SEO of your website. Indeed, you could be tempted to bet everything on Google Ads, however, it is important to continue to work on your SEO in parallel with your Google Ad campaign.
However, when you consider the risk of Google Ads, it might be worth a try, after all, you won't lose much!
Don't waste any more time or potential customers, Asixco creates your Google Ads campaign for you!